STILL FROM
MONTREAL HEARTS
Though originally shot under the Gunghorse Productions banner,
Montreal Hearts
, the highly successful comedy web series, features much of the formative team of Ack, No Ledge, particularly the tandem of writer/director Adam Kelly Morton and cinematographer Elias C. Varoutsos.

Montreal Hearts has reached over 50K views and counting (over Youtube, Vimeo and Funny or Die). It was nominated for an Indie Soap Award (Fan's Choice) and named on Funny or Die for their Best Videos of 2010.



STILLS FROM GODFREY: HENDON MURDER INVESTIGATOR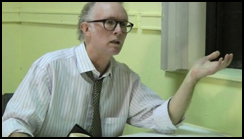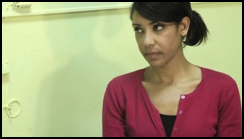 An I.O. Acting Studio co-production set in the "mean streets" of Hendon, London (UK), Detective Inspector Leopold Godfrey interrogates three suspects involved in a bizarre, drunken, hot-tub electrocution.

Shot in studio as an experimental comedy project, Godfrey features students from the I.O. Acting Studio Master class. Featuring the talents of Alex Gordon, Alexia Jacquot, Sybille Platzmann and Adam R. Hill, the web series is entirely improvised (from a basic plot-line).

Godfrey: Hendon Murder Inestigator has over 2000 views (Youtube and Facebook) and has been seen in over 50 countries!