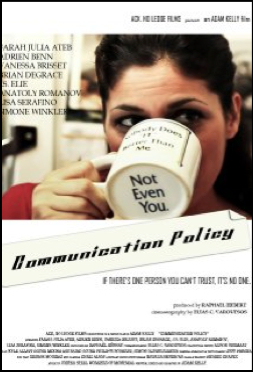 UPDATE: COMMUNICATION POLICY ENJOYS SCREENING AT
ROME INTERNATIONAL FILM FESTIVAL!!!

Our first foray into short subject film is the dramedy Communication Policy. With a mix of professional actors and students who had completed the I.O. Acting Studio curriculum, the film stars Lisa Serafino, Brian Degrace, Farah Julia Ateb, Anatoly Romanov, Vanessa Brisset, Adrien Benn, J.S. Elie and Simone Winkler.

WATCH COMMUNICATION POLICY:


Produced by "Handsome" Raphael Hebert, and with cinematography by the inscrutable Elias C. Varoutsos, the film was a lot of fun to make.

Shot mainly on a Canon 5D Mark II (provided by Jehhhhhhhhhhhhf Presnail) we enjoyed a very strong team dynamic over the two-weekend shoot, many of whom came back to work with us on our next film, including Production Designer Natalia Neverova, 1st AD Kyle Allatt, the sound team of Simon-Olivier Richer and Dominik Heizmann, Key Grip "Muscles" Phil Bourret, and Hair/Makeup Designer Andres Chavez.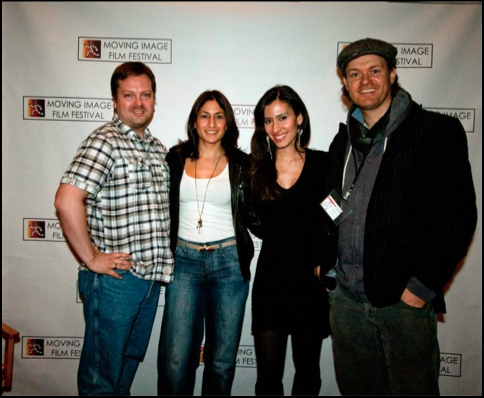 Communication Policy was first shown at the Moving Image Film Festival of Toronto, and also enjoyed screening in lovely Georgia for the Rome International Film Festival.



TRIVIA

Because Director/Editor Adam Kelly Morton was told to keep the film under 15 minutes to further its chances of getting into festivals,

Communication Policy

's running time is 14minutes, 59 seconds.

The film was shot, in its entirety, at the old Repercussion Theatre office and studio space, directly across from the Bell Centre where the Montreal Canadiens play. The entire building is now condemned, and slated for demolition.

Elias C. Varoutsos was unavailable for one of the shooting days, so Chris "FTP" Alsop shot several scenes, including the slow motion sequence (shot on his Canon 7D).

Adam Kelly Morton makes a cameo as the brick building bum at the opening of the film.